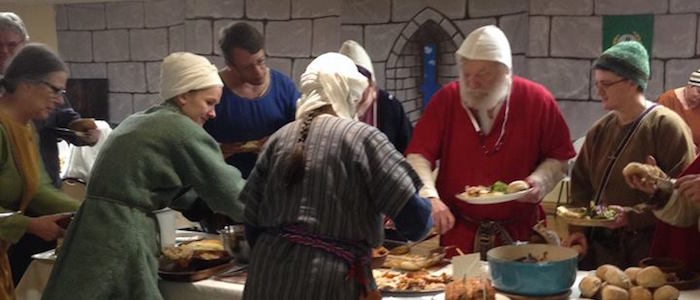 Pot luck
Many of our feasts are potluck, giving some people opportunity to try out medieval recipes, and all of us a chance to share food.
Head cooks sometimes post suggested dishes according to name, such as "first name A-H, bring dessert." You need not follow the suggestion; however, most will, to prevent another bread-and-butter-only potluck! The dish should be enough for 10 small servings (for a couple, that would be 20 servings, or two dishes with 10 small servings each). Your dish should be accompanies by serving ware (labelled to ensure return), and an ingredient list (so we don't kill anyone). Observe food safety procedures (see "don't kill" comment!).
If you don't cook, your local grocery has easy options of breads, butter, cheese, pickles, and so on. We have an article that may provide some ideas. Serving ware is needed.
If you cook, roast beef with a cumin rub is perfectly medieval. Many modern dishes are suitable, and some, with an adjustment in ingredients, can be made more medieval.
If you consider yourself an expert cook, check out Gode Cookery for recipes redacted from manuscripts!
Tableware is important! At minimum, have: bowl, goblet, spoon, and napkin. Portions tend to be small, but many, and all leave the table full. As you attend more feasts, you'll sort out the details (such as a metal tankard is wrong for hot drinks), and add a knife, small plate, something to carry it all, and a plastic bag for delayed clean-up later.
Cleaning your tableware should never be done in the bathrooms. You will be told whether you can use the kitchen, or if a wash station is being set up.
Of course, as you prepare to leave the event, be sure to clean up, as our custom is to leave a place cleaner than we found it.
More information on all of the above can be found in our Library page, in the 'Food & Feasting' section.